HVAC Unit Replacements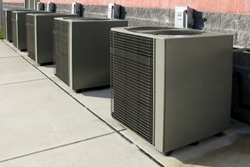 When new heating and cooling equipment is needed to replace an older unit in your home, it is time to contact Carter Heating and Air for an HVAC unit replacement in Raleigh. We will help by providing you with options that will fit your comfort needs and budget. Our energy efficient HVAC systems will save you money on your utility bills and provide you with excellent temperature control and dependability.
Cooling System Replacement Services include:
Air Conditioner and Heat Pump Replacement

Thermostat Replacement

Air Duct Replacement

Radiator Replacement
Heating System Replacement Services include:
Air Duct Replacement

Gas Furnace Replacement

Electric Furnace Replacement

Thermostat Replacement

Heat Pump Replacement

Radiator Replacement
When and why should you replace your furnace or air conditioner?
If your cooling or heating system is more than ten years old, the efficiency will be much less than the units that are available today. Your home's energy bills will be higher than needed, and the quality of your indoor air and humidity levels may not be at their healthiest. New air conditioners and furnaces have advanced technology that enables them to be more efficient, lowering utility bills, plus provide your home with cleaner and healthier indoor air. Depending on your location, you can research to see if gas or electricity is less expensive for your specific area.
When an HVAC unit replacement in Raleigh is necessary, Carter Heating and Air can provide you with the service and equipment that will deliver maximum comfort to your home and savings to your pocketbook. We will inspect your unit to evaluate the existing ductwork and insulation, to ensure the highest level of efficiency from your replacement system. We install quality brands that are reputable and known for their efficiency and long-lasting service life. Heating and cooling units are available with excellent financing options, so your family can receive the highest amount of energy efficiency with affordable payments.
Our certified technicians are trained and knowledgeable in complex HVAC installations
From the smallest AC unit to a sophisticated, high-efficiency HVAC system with additional ductwork, our technicians are well trained and prepared for the job to install replacement systems. Carter Heating and Air hire trustworthy individuals who understand heating and cooling issues and have excellent customer service skills. Our technicians participate in continual training and education to advance their technical knowledge and learn about new industry trends and equipment. Our service team is available to answer questions about heating and cooling systems, and provide you with helpful tips and useful operational information so that you can achieve the best results with your system.
An HVAC unit replacement in Raleigh will increase the comfort level in your home or business. Contact Carter Heating and Air today to find out more about all of our HVAC services, and visit our contact page to complete the form. Please contact us at (919) 772-4456 to schedule your Raleigh HVAC replacement consultation.