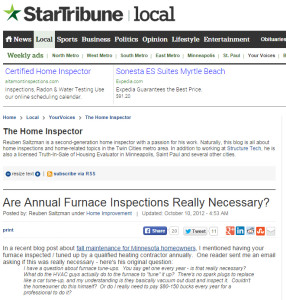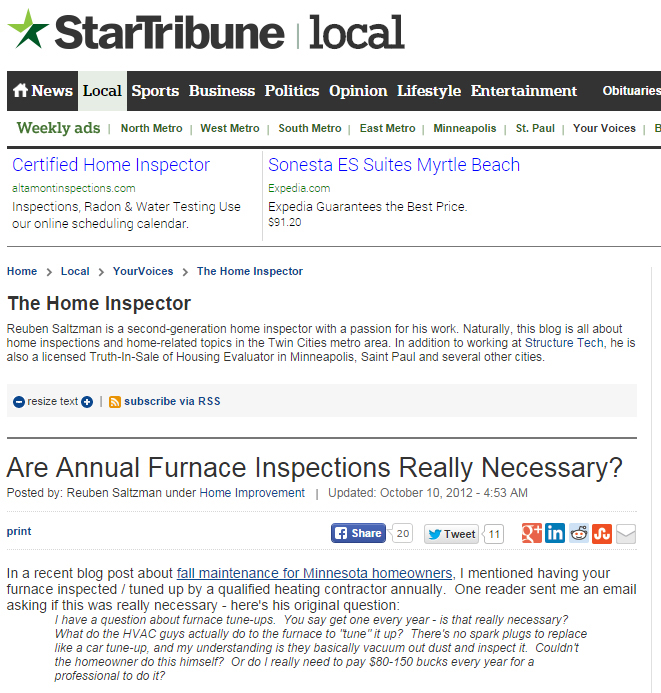 You visit the doctor annually, and it is also recommended to have a professional inspect your furnace annually.  Missing a year could cause future problems down the road. It is essential to hire a professional who is certified in furnace service to perform a furnace tune-up in Greensboro and surrounding areas. Why are these annual furnace inspections by a professional suggested as part of routine maintenance? Here are some of the reasons, as mentioned in the StarTribune newspaper:
"Keep in mind, this isn't just about safety; it's also about preventative maintenance.   It's about sometimes catching a problem before your furnace quits working in the middle of the night.   When you have to hire a heating contractor to show up on a Sunday evening because the furnace stopped working, you're probably going to end up paying emergency rates."
HVAC checkups are necessary not only for safety reasons, but to prevent future problems that could come up if they are not addressed. At Carter Heating and Air, we provide quality furnace tune-ups and service in Raleigh, Durham, Carrboro and Garner, and our maintenance technicians are highly experienced, delivering excellent, complete services. You may be asking yourself what is included in most furnace tune ups. Here's a list of the most common items that are checked during the inspection:
"The vent system needs to be checked for blockage and/or leakage.  This includes the outside termination and the connections at and internal to the furnace.
Combustion gases must be analyzed and compared to the unit specifications.
The blower access door needs to be checked to make sure it makes a tight seal at the furnace.
The fresh air intake grills and louvers need to be checked for blockage.
The heat exchanger needs to be inspected for rust and corrosion.
The burners need to be checked for proper ignition, burner flame, and flame sense.
The drainage system needs to be checked for blockage and/or leakage.   This includes the hoses internal to the furnace.  The condensate drain and trap need to be cleaned, and the water replaced in the trap.
The blower wheel needs to be checked for debris and cleaned if necessary – this requires complete removal of the blower wheel.
An amp-draw test should be conducted on the blower motor and compared with what is listed.
The wiring needs to be checked for corrosion and damage.
The filters need to be checked (but this needs to be done much more frequently than annually)"
Take care of your furnace and keep it safe and healthy for your family, home or business. It's easy to do with a quick call to our office. At Carter Heating and Air, you will receive a comprehensive, annual furnace tune-up in Durham and surrounding areas, with a quality guarantee. Furnace manufacturers highly recommend this maintenance, as referred to in most standard warranties:
"Furnace manufacturers all recommend annual inspections and maintenance by a qualified technician.   They also have language in their warranties saying that damage to the units caused by improper maintenance is not covered under warranty."
Carter Heating and Air provides professional, timely service for all furnace service in Carrboro, Garner and surrounding areas. To schedule HVAC checkups and learn more about maintenance programs call (919) 772-4456.
(Source: Are Annual Furnace Inspections Really Necessary?, http://www.startribune.com/)